By region
Sydney CBD
Surry Hills-Darlinghurst
Kings Cross-Potts Point
Redfern-Chippendale
Newtown
Glebe
Balmain-Rozelle
Bondi
Northern Sydney
Manly
Home
---
Contact
---
Time for wine
Best wine bars

Looking for a small bar to enjoy a glass or two of wine?
[More]
---
Where to go after midnight
Late night small bars in Sydney

It's getting close to the witching hour and your favourite venue is about to call last drinks, what are your late night options for small bars?
[More]
---
The best
Top 10 small bars

Your guide to the best 10 experiences Sydney small bars have to offer.
[More]
Surry Hills-Darlinghurst
---
Button Bar
www.button-bar.com.au
65 Foveaux Street, Surry Hills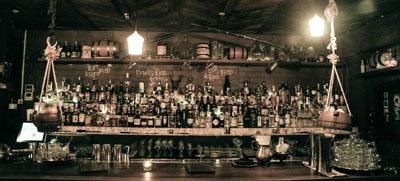 One thing many pubs and bars have lacked over the years is a connection to Sydney's past. There are many heritage sites, but most new venues tended to be slick or modern (and there's nothing inherently wrong with that). Button bar is one of the few places that has managed hat has managed to find the balance between contemporary design and historial appeal. Located in a non-descript commercial building on the lower section of Foveaux St, the entrance is a blink-and-you'll-miss-it affair. Up through the stairs you find a mid-sized bar (it can take up to 100 people) decked out in wood. Not just a few panels of the stuff, it's everywhere in all shapes and sizes. Look up to admire the large wood-panelled ceiling that leads to a wooden feature wall at the rear. Oak barrels are used for both decoration and function, while wooden baskets hang down and antiques are used to add charm and character.

Service at Button Bar is consistently friendly and genuine. You can hit the bar yourself or wait a bit longer for table service, complete with free pistachio nuts. It can, however, be a bit slow even when the bar is only a little busy, so be prepared for a wait. While the cocktails are good, they are somewhat on the sweet side and it's a little uncertain if it's the layout or the music volume but conversation can be hard at times, especially in front of the bar.





In brief: Button Bar
---
Best things: Friendly staff, compact layout with a good variety of choices for seating.
Don't miss: Antique finishes, great design incorporating modern and heritage styles.
Ideal for: Small groups, catch-ups with friends, after work drinks
Date tip: A booth is a good place to start, but sit on the same side (use the excuse that it's too noisy)
Gripe: Cocktails are a bit sweet.
Rating: 7/10


Last updated: June 2014
You are here:

Button Bar, Surry Hills review and address. One of the Sydney few bars that has managed to find balance between contemporary and historial designs.