By region
Sydney CBD
Surry Hills-Darlinghurst
Kings Cross-Potts Point
Redfern-Chippendale
Newtown
Glebe
Balmain-Rozelle
Bondi
Northern Sydney
Manly
Home
---
Contact
---
Time for wine
Best wine bars

Looking for a small bar to enjoy a glass or two of wine?
[More]
---
Where to go after midnight
Late night small bars in Sydney

It's getting close to the witching hour and your favourite venue is about to call last drinks, what are your late night options for small bars?
[More]
---
The best
Top 10 small bars

Your guide to the best 10 experiences Sydney small bars have to offer.
[More]
Newtown-Glebe
---
Corridor
www.corridorbar.com.au
153A King Street, Newtown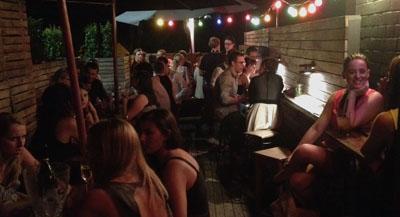 At first glance, Corridor looks possibly like the smallest bar in Sydney. There will most likely be a table of or two three squished into the street-facing bench as they people watch. Behind them is the bar, but keep going and the place unfolds like a rabbit warren, including upstairs. While the front may seem peaceful, almost dead, the top deck is often packed. This is the first challenge. The downstairs bar and best seating are at the furthest distance possible in the two-level building. It be a bit tricky negotiating the terrace's stairs and floor plan carry your precious cargo of drinks. Beers are often the best bet – it's Newtown after all. Happy hours often see $5 pints on the menu (5-7pm) and likewise get in early for $10 house cocktails. Outside these times, prices are higher but in line with most small bars in the area. Food is good and simple, burgers, home made chips and other seasonal items. They're not going to set the world on fire, but it's good well-priced food.





In brief: Corridor
---
Best things: Week-end lunchtime opening (1pm), Upstairs deck area feels like you are at someone's house party.
Don't miss: Live bands Wednesday, Thursday and Sunday nights
Ideal for: Catch-ups with friends, dates
Date tip: For privacy, grab an inside room. The upstairs deck can get packed and it's a long way to the bar.
Gripes: The place is a little difficult to navigate when it gets busy, and people are constantly eying off your table.
Rating: 6/10


Last updated: June 2014
You are here:

Corridor, Newtown review and address. A bar that seems quiet at the street-side but venture deeper for the action.