By region
Sydney CBD
Surry Hills-Darlinghurst
Kings Cross-Potts Point
Redfern-Chippendale
Newtown
Glebe
Balmain-Rozelle
Bondi
Northern Sydney
Manly
Home
---
Contact
---
Time for wine
Best wine bars

Looking for a small bar to enjoy a glass or two of wine?
[More]
---
Where to go after midnight
Late night small bars in Sydney

It's getting close to the witching hour and your favourite venue is about to call last drinks, what are your late night options for small bars?
[More]
---
The best
Top 10 small bars

Your guide to the best 10 experiences Sydney small bars have to offer.
[More]
Redfern-Chippendale
---
Freda's Bar and Canteen
www.fredas.com.au
107-109 Regent Street, Chippendale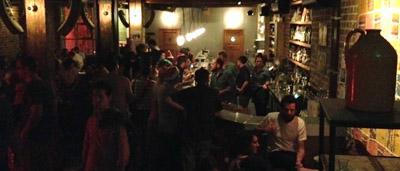 Chippendale has definitely started to mellow. Not far from the former home of bondage club, Hellfire and a few blocks from areas where once you'd be considered brave or stupid to explore, is Freda's Bar and Canteen. When you enter for the first time, you'll be surprised how spacious the former warehouse feels. The high ceilings and long bar running down one wall betray its compact footprint. There is plenty of room to grab a table, stand at the bar or just mill about. When it comes down to drinks, the cocktails have a mature taste about them. It's rare to see sugary fruity concoctions, just decent straight up originals and classics. If you are not used to having your drinks served this way, they may come off a little strong. As usual, just ask the bartenders and they'll help you out.

Freda's is not just a place to have a drink. Food is available from their tapas menu which ends up not being quite the bargain you'd first imagine. It will take a few dishes to feel satisfied, so expect to spend around $50 or more per person. Some dishes really hit the spot, others felt like they had lost their texture by the time they arrived.

Freda's Bar and Canteen is not too hard to find, but you'll have to keep a watchful eye out for the entrance. Walking down Regent St from Cleveland, it's a little over a block away. Go past the pub on the corner (Aussiebar), across the side street and two doors down is the entrance. Freda's has no street frontage and is down a small laneway often lit with coloured outdoor lights. If it's a busy night, you'll see one or two security people out front, probably a few smokers and a dreaded line.





In brief: Freda's Bar and Canteen
---
Best things: Lunchtime openings, DJ and dance area that doesn't drown the place out
Don't miss: A cocktail menu for grown-ups
Ideal for: Small groups, catch-ups with friends, after work drinks, dates
Date tip: Along the back wall or to the right of the bar.
Gripes: Occasional queues may leave you on the street with few alternate options in the area. Table seating system is not immediately obvious.
Rating: 7/10


Last updated: June 2014
You are here:

Freda's Bar and Canteen, Chippendale review and address. The cocktails have a mature taste and it's rare to see sugary fruity concoctions at this Chippendale bar.