By region
Sydney CBD
Surry Hills-Darlinghurst
Kings Cross-Potts Point
Redfern-Chippendale
Newtown
Glebe
Balmain-Rozelle
Bondi
Northern Sydney
Manly
Home
---
Contact
---
Time for wine
Best wine bars

Looking for a small bar to enjoy a glass or two of wine?
[More]
---
Where to go after midnight
Late night small bars in Sydney

It's getting close to the witching hour and your favourite venue is about to call last drinks, what are your late night options for small bars?
[More]
---
The best
Top 10 small bars

Your guide to the best 10 experiences Sydney small bars have to offer.
[More]
Sydney CBD
---
Grasshopper
thegrasshopper.com.au
1 Temperance Lane Sydney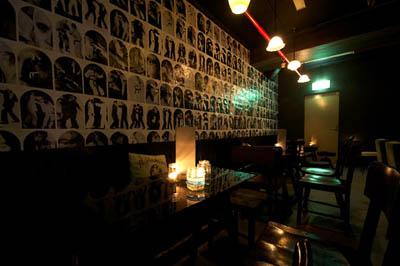 Few people are unaware that across the road from Ivy on busy George street lies a totally different drinking experience to the mega complex that dominates this part of Sydney. Grasshopper is tucked up a quiet lane and when taking someone there for the first time, they may feel that you leading them to a mugging rather than one of Sydney's best laneway bars. On a busy night, Grasshopper sprawls out into the laneway with a kind of urban layout - crates for seats, old lids for ash trays and cocktails in an assortment of jars. Inside is a softly lit bar downstairs, and separate restaurant area upstairs. The bar is intimate but surprisingly noisy even when nowhere near capacity.

Grasshopper tries to find the balance between urban/edgy and up-market. Generally, it manages to mix the themes with success from the décor to the glassware (old jars and beakers), but it does go a little too abstract at times. Some interesting concoctions on the cocktail menu start at $15, while those with a bit stronger will cost closer to $20. Don't drink too many as you may have difficultly remembering what you've had: the cocktails are numbered but not named. Also, if you're watching your drinks, the measurements used may provide another a test: a jigger is 1.5 standard shots (45ml), a pony is 30ml and a tablespoon is half that (15-20ml). So you'll be confronted with a menu that will list, for example, '#65'. Its ingredients are: '6 leaves of Mint, 1 jigger of Cachaca, 1 tablespoon of Ginger Cordial, 1 pony of fresh White Grapefruit and 2 jiggers of Tonic'. Doing the maths, plus knowing that Cachaca is the Brazilian equivalent of white rum and you'll end up with a take on the classic Caipirinha which is more bitter than sour. In the end, this kind of menu presentation seems a bit too indulgent and convoluted: drink selection should be clear and create a level of anticipation, not leave you confused or using your smartphone to understand what you are chosing between.





In brief: Grasshopper
---
Best things: Sitting in the laneway on busy nights
Don't miss: Unique glassware for cocktails
Ideal for: Small groups, catch-ups with friends, dates
Date tip: Laneway, when it's open or the right hand side of the bar and tables at back left.
Gripe: Cocktail menu seems intentionally difficult to understand. Opening of laneway area is sporadic and the outdoor seating (ie crates) is uncomfortable after a few minutes.
Rating: 6/10


Last updated: June 2014
You are here:

The Grasshopper, Sydney CBD review and address. his laneway bar tries to balance urban/edgy and up-market. Generally, it manages to mix the themes with success, but not without a few issues.