By region
Sydney CBD
Surry Hills-Darlinghurst
Kings Cross-Potts Point
Redfern-Chippendale
Newtown
Glebe
Balmain-Rozelle
Bondi
Northern Sydney
Manly
Home
---
Contact
---
Time for wine
Best wine bars

Looking for a small bar to enjoy a glass or two of wine?
[More]
---
Where to go after midnight
Late night small bars in Sydney

It's getting close to the witching hour and your favourite venue is about to call last drinks, what are your late night options for small bars?
[More]
---
The best
Top 10 small bars

Your guide to the best 10 experiences Sydney small bars have to offer.
[More]
Surry Hills-Darlinghurst
---
Hazy Rose
www.thehazyrose.com.au
Level 1, 83 Stanley Street, Darlinghurst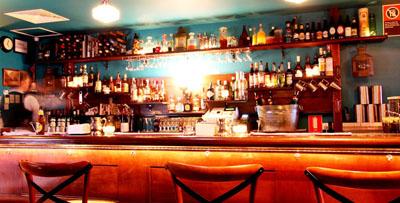 Tucked amongst the cheap eateries on Stanley Street lies Hazy Rose, a small oasis where you can get original cocktails and friendly service. The place is located on the upper level of a converted terrace that, combined with soft lighting, creates an intimate feel. Rock up to the bar or grab a seat – there is table service on many nights, so you can sit and relax. A small but free house cocktail is often served, which tastes a little like Campari (ask the staff for a detailed explanation as availability can change from night to night). Since cocktails are its forte, there are occasional delays in getting your order on busy nights. But when the drinks arrive, expect them to be perfectly executed and served with a genuine smile. You will find an the emphasis is on flavour rather than just drowning everything in sugar syrup. A few wines are also available and for food, you'll have to rely on the neighbouring restaurants as Hazy Rose sticks to its simple business of cocktails, done well.

Like many small bars, Hazy Rose occupies is tucked upstairs, so it can be easy to miss. To find the bar, head down Stanley St from Crown on the left side. Go past the sushi place and a little further you will see a dark staircase that rises on the left side 83 Stanley (above No Name Restaurant).





In brief: Hazy Rose
---
Best things: Confident bartenders can deliver cocktails that are a little different to the typical lists.
Don't miss: The balcony over Stanley street on a warm night (however: be prepared to share it with smokers and thanks to council requirements, drinks are not permitted out there)
Ideal for: Small groups, dates
Date tip: Grab a booth and sit on the same side, or the quiet table inside on the left near the balcony.
Gripe:Overly loud music can be too intrusive at times and wreck the intimate feel of the bar
Rating:

7

/10
Last updated: June 2014
You are here:

Hazy Rose, Darlinghurst review and address. A small oasis where you can get original cocktails and friendly service.