By region
Sydney CBD
Surry Hills-Darlinghurst
Kings Cross-Potts Point
Redfern-Chippendale
Newtown
Glebe
Balmain-Rozelle
Bondi
Northern Sydney
Home
---
Contact
---
The best
Top 10 small bars

Your guide to the best 10 experiences Sydney small bars have to offer.
[More]
---
Where to go after midnight
Late night small bars in Sydney

It's getting close to the witching hour and your favourite venue is about to call last drinks, what are your late night options for small bars?
[More]
---
New in 2013
Black Penny

A compact corner bar on Cleveland street with a relaxed, open interior and cocktails for grown-ups: 7/10
[More]
Surry Hills-Darlinghurst
---
Hinky Dinks
www.hinkydinks.com.au
185 Darlinghurst Road, Darlinghurst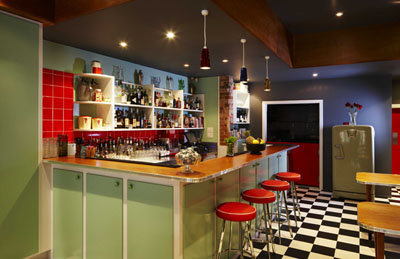 There are some nights when you want to just relax, feel welcomed and enjoy a quiet drink. Mix in some inspired 1950s/carnival decor and you've described Hinky Dinks. Shortly after entering, you'll be offered some complimentary popcorn, the cocktail menu and a smile by the staff providing table service. The mood here is chilled with no blasting music but since the bar lies right on the edge of the Cross, expect the occasional intrusion from outside – whether it be drunken revellers shouting merrily as they stagger passed or the hoons pumping out noise from their lowriders. But don't worry, it all adds to the experience.

Back inside, the cocktail menu is extensive but a little pricey. There wasn't much change from $40 for two cocktails (a simple Margarita plus a Manhattan). They, like many of the others on the list, were well made and not the common sickly sweet versions that are all too common in Sydney. Food is available at quiet reasonable prices, including a choice of three soft tacos ($7) and tasty chicken wings at $12.

---
In brief: Hinky Dinks



Don't miss: The Zombie Cocktail (limit of two per night)
Best things: Great décor, especially around the bar. Plus a space to have a conversation without blaring music.
Ideal for: Small groups, dates, catch-ups with friends
Date tip: High tables on the left as you enter, couches under the street-side window (be prepared for the occasional weirdo to stop and look in). The Zombie cocktails can get things moving a bit quicker.
Gripes: Cocktails are a little pricey, especially the more basic varieties.
Rating: 8/10


Last updated: March 2013
You are here:

Hinky Dinks, Darlinghurst review and address. An inspired bar decorated in 1950s/carnival style and backed by a tempting cocktail menu