By region
Sydney CBD
Surry Hills-Darlinghurst
Kings Cross-Potts Point
Redfern-Chippendale
Newtown
Glebe
Balmain-Rozelle
Bondi
Northern Sydney
Manly
Home
---
Contact
---
Time for wine
Best wine bars

Looking for a small bar to enjoy a glass or two of wine?
[More]
---
Where to go after midnight
Late night small bars in Sydney

It's getting close to the witching hour and your favourite venue is about to call last drinks, what are your late night options for small bars?
[More]
---
The best
Top 10 small bars

Your guide to the best 10 experiences Sydney small bars have to offer.
[More]
Surry Hills-Darlinghurst
---
Love Tilly Devine
www.lovetillydevine.com
91 Crown Lane, Darlinghurst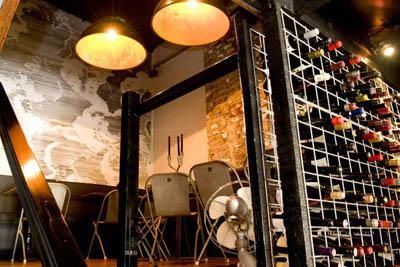 You'll remember the first time you visit Love, Tilly Devine. It starts when you head down a dodgy alley and around the corner to a stripped brick frontage that looks like a page straight out of Sydney history. You'll find yourself saying 'wow' or 'cool'. This wine bar is both. Navigating the wine menu is almost as difficult as finding the place, so don't be shy to ask for help. While youíre deciding on a wine, take a look at the food menu which, unlike a lot of other small bars, seems to find the right balancing act in both portion sizes and taste: oysters, cheese plates, mixed salamis. Not a meal, but more an experience. You don't have to limit your indulgence to night time either - the place opens at 4pm on Sundays and is a great way to warm up in winter or hang out on an easy Sunday afternoon.

A lot of bars seem to be haphazardly located in back alleys, but the location of Love, Tilly Devine is in an area that has a notorious history and just over a decade it was still considered a seedy area (Tilly Devine was a violent drug dealer and owner of brothels). It is not the easiest bar to spot, so start on Crown Street, one block up from William Street. Enter Yurong Lane (next to Budget), take the first left and it will be on your left. Incidentally Love Tilly Devine backs onto the small bar, Owl House (however, you canít walk through) and across the lane from Tilly is another small bar, Red Lily. A quick right off Crown Lane and Left into Riley St will take you to Bar Pacifico: four great bars within 100m. Another 100m will take you to Hazy Rose on Stanley Street.





In brief: Love Tilly Devine
---
Best things: The great range of wines that would easily challenge those found in many fine dining restaurants, accompanied by simple yet tasty food options
Don't miss: Venturing out and trying different wines from all over the world
Ideal for: Small groups, dates, catch-up with friends
Date tip: Mezzanine section, area to the right of the bar. Avoid the tiny two-seater tables in front of the bar.
Gripe: some tables can be a little cramped and the space can get a little hot.
Rating:

8

/10
Last updated: June 2014
You are here:

Love Tilly Devine, Sydney CBD review and address. A bustling and sometimes crowded small bar, it still provides an alternative for the beer-swilling venues that have dominated much of the city.