By region
Sydney CBD
Surry Hills-Darlinghurst
Kings Cross-Potts Point
Redfern-Chippendale
Newtown
Glebe
Balmain-Rozelle
Bondi
Northern Sydney
Manly
Home
---
Contact
---
Time for wine
Best wine bars

Looking for a small bar to enjoy a glass or two of wine?
[More]
---
Where to go after midnight
Late night small bars in Sydney

It's getting close to the witching hour and your favourite venue is about to call last drinks, what are your late night options for small bars?
[More]
---
The best
Top 10 small bars

Your guide to the best 10 experiences Sydney small bars have to offer.
[More]
Surry Hills-Darlinghurst
---
Sticky Bar
www.tablefor20.blogspot.com.au
Level 2, 182 Campbell Street, Surry Hills (enter via Taggarts Lane)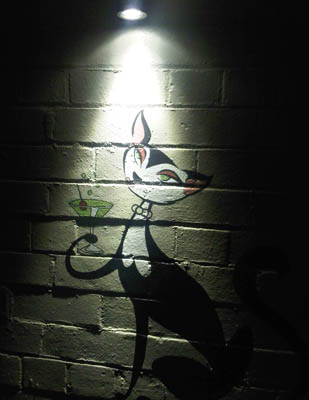 Launched in 2006 and well ahead of the small bar stampede, Sticky Bar has sat quietly and wonderfully going about its trade. Not only does the difficultly in finding the entrance give you a sense of some illegal den, but the windowless and dimly bar area creates a modern take of a speakeasy from last century. Ironic, that the term 'speakeasy' is often used to describe Sticky Bar, because it can get quite noisy here, mainly due to the music, and you'll find any kind of speaking difficult. When you are not being drowned out, the entire place is quite casual and inviting.

Sticky Bar's drawcard is it's fine cocktail list, with specials board, backed up by a great wine list and staff who know their drinks. Plus you can bypass the long queues at Table For 20 and sample some of the menu while you sip your cocktails.

This would probably rank as one of the hardest small bars in Sydney to find. Sticky Bar resides above Table for 20 (on Campbell St), but they request you use the rear lane for access to the bar. So turn onto Crown St from Campbell, then walk towards Oxford Street and take the first right hand turn up Taggarts Lane, next to the Maltese Cafe. About 50 metres on the right (south side) of the alley, if you are lucky, there will people milling around a doorway. If not, you will need to wander around and look for a small doorway. You are not done yet. There should be a note and phone number to contact with a password. Text/call the number and wait. Once inside, it is rabbit warren, follow the corridor then up some stairs, turn right briefly past the kitchen/bar of Table for 20, right again then up the stairs again. Congratulations, you've made it to Sticky Bar.





In brief: Sticky Bar
---
Best things: Quality drink and food options, moody atmosphere
Don't miss: Cocktail list
Ideal for: Small groups, catch-ups with friends, dates (a function room is available out the back)
Date tip: There are plenty of small seated areas here to claim a secluded spot, but when they are all gone, you may find yourself standing around slightly awkwardly in front of everyone.
Gripes: Music can be a bit too loud and having to head downstairs to use the toilets can be a pain.



Last updated: June 2014
You are here:

Sticky Bar, Surry Hills review and address. The bar's drawcard is it's fine cocktail list, with specials board, backed up by a great wine list and staff who know their drinks.