By region
Sydney CBD
Surry Hills-Darlinghurst
Kings Cross-Potts Point
Redfern-Chippendale
Newtown
Glebe
Balmain-Rozelle
Bondi
Northern Sydney
Manly
Home
---
Contact
---
Time for wine
Best wine bars

Looking for a small bar to enjoy a glass or two of wine?
[More]
---
Where to go after midnight
Late night small bars in Sydney

It's getting close to the witching hour and your favourite venue is about to call last drinks, what are your late night options for small bars?
[More]
---
The best
Top 10 small bars

Your guide to the best 10 experiences Sydney small bars have to offer.
[More]
Sydney CBD
---
Stitch
www.stitchbar.com
61 York Street, Sydney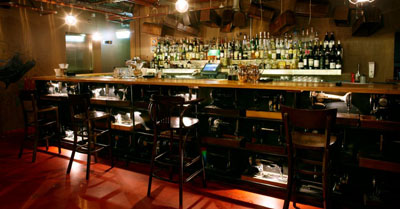 There's a good chance you'll walk straight past the doorway to this underground bar on York St, Stitch is part of an area which is starting to become ground central for small bars – nearby venues include York Lane, Spooning Goats, Mojo Record bar, Small Bar and Baxter Inn. A staircase will lead you down to the den, fitted out in old tailoring relics from the early half of the 20th century. If it's a busy night, you can expect to wait outside a while, and after entry the bar at the bottom of the stairs will then be deep with people ordering from the impressive cocktail list. This will be a hurdle at first, as you will often need to push by those waiting to be served in order to find your own space.

The staircase dominates the venue, so you'll need to walk around the rabbit-warren layout to find a seat. Depending on the night, there may be a line for tables, so be prepared to wait a while for either a seat or your first drink.

Stitch has the usual assortment of home-spun and classic cocktails, beers and wines. Where Stitch differs a little form other bars is its food. There are three themes: tacos, burgers and hotdogs (the last two are served with curly fries). But expect some twists, including an above-average price tag. The Macky Duck hot dog a is duck, orange and pistachio sausage with foie gras and truffle sauce. It's very rich and comes with a $19 price tag. Even the simpler hot dog varieties come it at $17 and the combinations may not quite hit the spot (such as a garlic and wine sausage dressed with pear and brie cheese). The burgers are good and messy so make sure you have a seat and plenty of napkins if you are ordering one. These too are priced a bit higher - $19 for a wagyu BLT. This is an expensive cut of meet for a hamburger and like a lot of the dishes it seems they are taking ingredients with fine flavours and mixing too many together in the one offering. The end result is an expensive take on fast food that doesn't do justice to the quality ingredients used. If you went as a couple and had two cocktails and a hotdog each, expect a total bill of over $100 and close to $120 if you don't pick the cheaper options. Even a beer and burger each will cost over $50 for two.





In brief: Stitch
---
In brief: Stitch Bar



Best things: Well styled city bar with interesting décor centred around tailoring from the early 20th century.
Don't miss: Hotdogs with a difference
Ideal for: Small groups, dates, catch-ups with friends
Date tip: Grab a booth, if you're there early but otherwise expect to be standing.
Gripe: Service can be real slow around the cramped bar area, expensive
Rating:

6

/10
Last updated: June 2014
You are here:

Stitch Bar, Sydney CBD review and address. A well styled city bar with an unusal take on hamburgers and hotdogs.