By region
Sydney CBD
Surry Hills-Darlinghurst
Kings Cross-Potts Point
Redfern-Chippendale
Newtown
Glebe
Balmain-Rozelle
Bondi
Northern Sydney
Manly
Home
---
Contact
---
Time for wine
Best wine bars

Looking for a small bar to enjoy a glass or two of wine?
[More]
---
Where to go after midnight
Late night small bars in Sydney

It's getting close to the witching hour and your favourite venue is about to call last drinks, what are your late night options for small bars?
[More]
---
The best
Top 10 small bars

Your guide to the best 10 experiences Sydney small bars have to offer.
[More]
Sydney CBD
---
York Lane
www.yorklane.com
York Lane, Sydney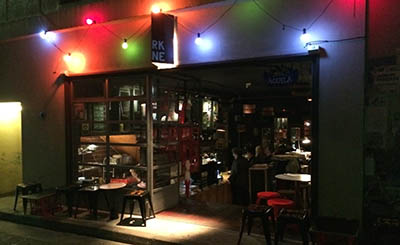 Most people who've been to Sydney's CBD has probably walked passed York Lane, a access laneway near Wynyard Station. Until now, there wasn't much reason to venture down the alley, let alone make it a destination, but now that's changed with the opening York Lane. Probably one of the smallest bars in the CBD, it's both rustic and modern with friendly staff and an efficient interior design. Because of its size, don't be expecting big comfortable couches. Here the aesthetic is minimalist with small stools and similarly compact tables. They are more suited for a short sitting spell as you'll find the hard surfaces a little difficult to maintain for more than one drink.

The drinks menu is similarly compact and like the venue, it makes the most of a small range. Wines by the glass begin at $7.50 for a rose, through to $12 for lively five year-old Pinot Noir or a decent NZ Sauvignon Blanc. Beer starts at about $8 for a selection from their boutique beers, and at the bargain end is VB in long necks for $12. There are some spirits and cocktail on offer as well - ask at the bar for their suggestions or request one of your favourites.

Snacks in the form of tapas can hit the spot if you're feeling peckish. While tasty and fresh, these are not on the cheap side: $22 for cheese or antipasto plate, or $14 for duck pancakes or pork belly.





In brief: York Lane
---
Best things: Great little venue in an unexpected location, 6am weekday openings that include breakfast
Don't miss: Getting into the back alley experience by sharing a $12 longneck of VB, or go bohemian with a bottle of pinot noir ($48).
Ideal for: Catch-ups with friends, after work drinks
Date tip: A little too small for a date since the whole place feels a little too exposed to be intimate.
Gripe: After a short while the discomfort of sitting on a small wooden stool will have you looking elsewhere for something softer.
Rating: 6/10


Last updated: June 2014
You are here:

York Lane, Sydney CBD review and address. Probably one of the smallest bars in the CBD, it's both rustic and modern with friendly staff.